Events and Other Information
Thanks be to God for the gift of His Son, which we remember with joy at Christmas.
Photo: Elevation of the Consecerated Host at the Midnight Mass of Christmas
The Church gives us many days to celebrate the birth of Our Savior, not only the Twelve Days of Christmas leading up to the Feast of the Epiphany, but also a full the forty days of the Christmas Season, which lasts until Candlemas on
February 2.
Meet-up with Others from Institute of Christ the King Apostolates at the Walk for Life West Coast, January 26, 2019
Meet up at the 15th Annual Walk for Life in San Francisco with others from the northern California apostolates of the Institute of Christ Sovereign Priest. Event schedule lists four opportunities to attend a traditional Latin Mass and pray for life before and after the walk. The Vatican has granted a plenary indulgence for those who participate. See this San Jose News page for more details.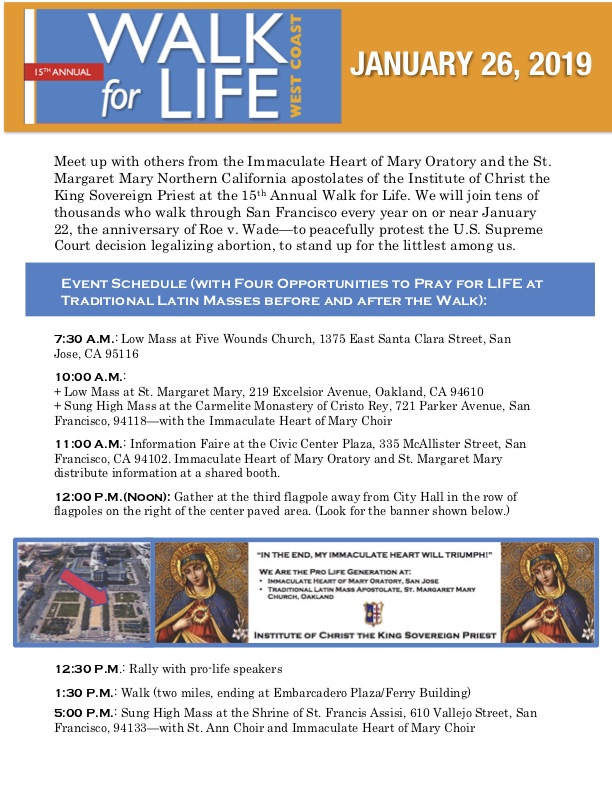 Administration of the Sacraments

Infant Baptism: Parents requesting Baptism for a child must be registered members of the Oratory.

First Holy Communion and Confirmation: Children must attend the sacrament-preparation catechism classes at the Oratory.

Holy Matrimony: Couples planning to marry at the Oratory must contact a priest of the Institute of Christ the King for the proper instructions.

Anointing of the Sick: Members facing surgery, serious illness or death may obtain the sacrament.

Never wait, never hesitate ... remember: physical healing can also be an effect of the sacrament. Don't deprive yourself or a loved one of God's help.

For more information, contact Canon Ueda at: (408) 781-9497 or This email address is being protected from spambots. You need JavaScript enabled to view it.
Mass Intentions
View our Mass intentions calendar here. Masses on First Fridays are reserved for the intentions of the men's and women's groups of the Oratory. The suggested donation for a Mass intention is $10 in the diocese of San José.
Three Mass Intentions are allowed per month per family. If you submit a request for a date that is already assigned, you will be assigned another date.
You can get envelopes for Mass requests and Mass cards from ushers at the front entrance to the church, and you can put the Mass requests in the collection basket with your donation.
Or you may mail your request along with the donation to:


Immaculate Heart of Mary Oratory
Clergy Residence
Mass Intentions
746 North Third Street
San José, CA 95112
Input to the online Mass intentions calendar is usually made on Thursdays, so it is a good idea to check after Thursday to see if your desired date is available before submitting a new request.
After the Mass intentiona calendar for the calendar year gets full, we stop accepting Mass intentions until close to the start of the next year. Watch the bulletin for announcements.
Other Information and Building Map
The latest information about schedules is always on the weekly bulletins. Sign up for the oratory email list This email address is being protected from spambots. You need JavaScript enabled to view it. for bulletins and announcements from our chaplain.
To find details about parish groups, click the Groups tab.
View our video: The Latin Mass: Immaculate Heart of Mary Oratory - San Jose, CA.
Follow the Immaculate Heart of Mary Oratory-San Jose, CA on Facebook.
See galleries of photos of events at Immaculate Heart Oratory Galleries at Smugmug.
Use the following map to find the church bathrooms, IES chapel, rectory meeting room, Cristo Rey cafeteria and classrooms
Click the above image for a printable PDF of this map.
Interactive Map and Directions
Zoom in or out. Click the pin to get directions from your home.