Information, Schedule & Directions
Clergy of the Oratory
Canon Aaron Huberfeld, Rector
Canon Heitor Matheus, Vicar
Upcoming Events:


GIRLS' SUMMER CAMP (ages 14-17)
at Green Lake Conference Center, WI
Sunday, June 2nd to Thursday, June 6th
Mass will be celebrated for everyone Sunday evening
To register : institute-christ-king.org
Contact: This email address is being protected from spambots. You need JavaScript enabled to view it.
With the presence of our dear Sisters Adorers,
traveling from Italy to share the joy of God's love!
Registration deadline: Sunday, May 2nd
ANNOUNCING: a unique new Summer Theology Program at St. Mary's Oratory in Wausau, WI. Hosted by the Institute of Christ the King Sovereign Priest together with The Aquinas Institute for the Study of Sacred Doctrine and the Albertus Magnus Center for Scholastic Studies. The topic of study this year is St. Thomas Aquinas' commentary on the Epistle of St. Paul to the Galatians. Deepen your knowledge and appreciation of the Catholic faith through daily seminars and lectures by professors of The Aquinas Institute and Albertus Magnus Center, culminating in a formal scholastic disputation. Participate in the rich liturgical life of the Institute of Christ the King with daily Mass and prayer throughout the week, including a solemn high Mass and procession for the Feast of the Assumption of Mary. The course runs from Monday-Friday, August 12-16, 2019. For more information and to apply, visit: www.albertusmagnuscss.org and select Summer 2019 - USA.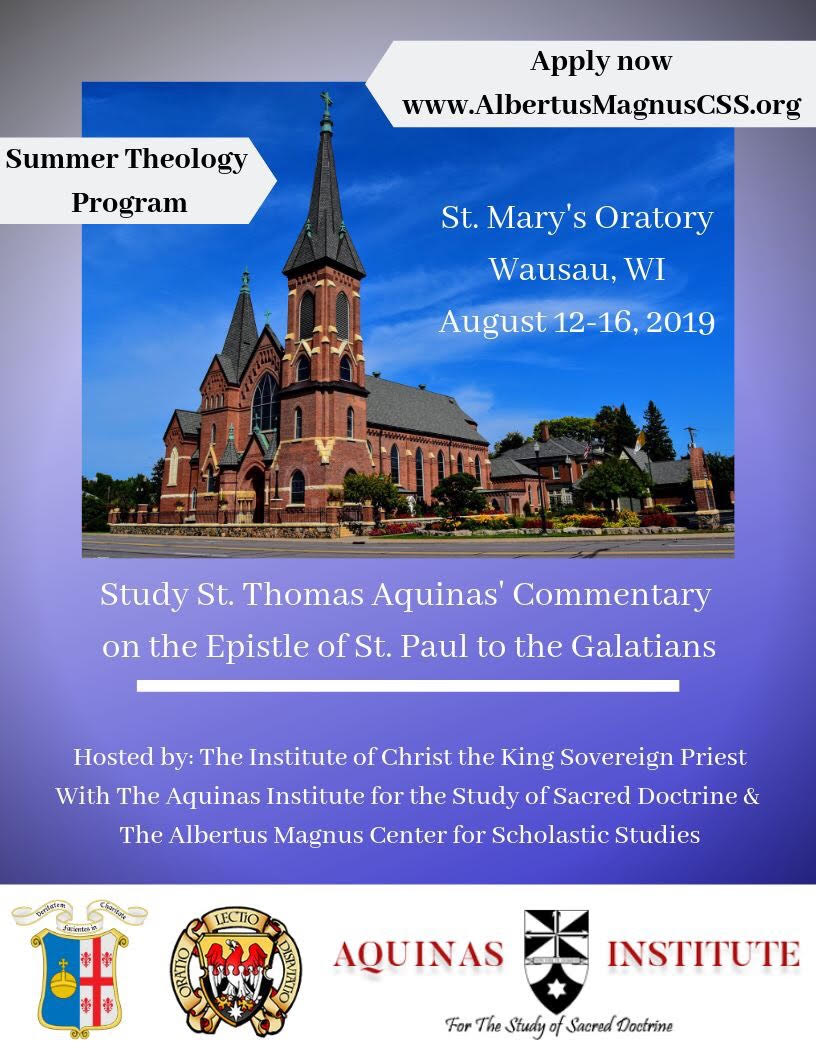 Media:
St. Mary's Oratory Schola Cantorum presents their first sacred music CD
Interactive Map
Zoom in or out. Click the pin to get directions from your home.